ATEN store on KVMGalore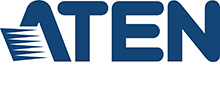 ATEN offers the following product lines:
As an ISO 9002 certified manufacturer of KVM switches and video products, ATEN has earned a sterling reputation for delivering the finest KVM (keyboard/video/mouse) and remote connectivity solutions to manage servers and other network devices.
Today ATEN stands as one of the largest KVM manufacturer in the global marketplace with office locations worldwide.
Over the years, ATEN has developed a broad range of solutions to meet the needs of key market niches, including small- and medium-sized businesses (SMBs) and enterprise organizations through its ALTUSEN line of KVM products.
Leveraging its leading-edge ASIC technology and VSE patents, ATEN's KVM and remote connectivity solutions offer the most comprehensive features and functionality than the competition. The ASIC chip is one of the company's unique differentiators, as it drives the product line's capabilities, and ensures reliability and quality.
With research and development facilities throughout the world and boasting uncompromising quality control departments at all facilities, ISO 9002 certified-ATEN stands poised to meet even the most stringent requirements of the most exacting customers.
No other company in this field can boast the superior capabilities of ATEN's manufacturing facilities and the technology they employ. ATEN is ISO 9002-certified, and operates a fully automated facility in Taipei, Taiwan that operates advanced surface mount technology (SMT) equipment and a state-of-the-art computerized warehouse. ATEN's multi-angle Automated Optical Inspection (AOI) system represents the first wave of quality control for PCB surface, solder joint and component defects.
Standard warranty: Three years