NTI store on KVMGalore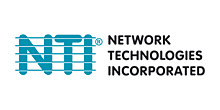 NTI offers the following product lines:
Network Technologies Inc. [NTI] manufactures keyboard-video-mouse (KVM) and audio/video switches, splitters and extenders for computers (PC, MAC, and SUN, including USB) and video sources (DVD player, satellite receiver).
By consistently providing KVM and audio/video solutions that combine innovation with reliable high-performance, NTI empowers their customers to improve efficiency, reduce equipment and energy costs, and maximize space utilization.
NTI has been rewarded with over 20 consecutive years of dramatic growth.
NTI is a privately-held company. NTI's products are manufactured at their company headquarters in Aurora, Ohio. NTI is a D&B rated company with an excellent credit history and industry reputation. NTI's products are sold world-wide through an extensive network of International Distributors and resellers.
Customers and Applications...
NTI has been providing solutions worldwide to customers since 1984. You'll find NTI KVM and audio/video solutions utilized in commercial, industrial, military/government, educational and worship applications. NTI's KVM and video switches and splitters are utilized by network administrators, IT managers, software developers, computer test engineers and technicians, and SOHO users.
NTI's staff of technicians and engineering experts can provide you with clear, concise answers to your installation and configuration questions. NTI's evaluation program makes it easy to try their products in your application. With all manufacturing concentrated in our headquarters, NTI can customize their products to fit your needs.
NTI's Guarantee...
All of NTI's products are rigorously tested to ensure long-lasting and proper operation, and are backed with a two-year warranty on all parts and labor.
NTI's Products...
NTI's products are hardware-based solutions that are easy to use and world-renowned for their crisp and clear 1900x1200 video resolution. Installation of NTI's products does not require special tools or the installation of additional software on your computer.
Standard warranty: Two years