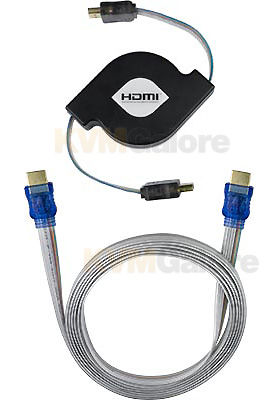 Flat HDMI 1.3 Interface Cables
Flat (and retractable) HDMI cables (0.08" thick) fit under carpets & in tight spaces for connecting HDMI without unnecessary clutter and tangles
Read more below...
$9.19
MSRP: $10.00 -
You save $0.81

$13.79
MSRP: $15.00 -
You save $1.21
Flat HDMI Cables (Only 0.08" Thick) Fit Under Carpets and in Tight Spaces for Connecting HDTV to HDMI Source without Unnecessary Clutter and Tangles.
• Flat construction of cable aligns internal wires for less crosstalk and interference than traditional round cables.
• Ideal for tight spaces and for hiding under carpets.
• HDMI Type A male to male cable.
• HDMI 1.3 compliant.
• Supports HDTV resolutions to 1080p and computer resolutions to 1920 x 1200.
• Supports standard, enhanced or high-definition video, and multi-channel digital audio on a single cable.
• Gold plated contact pins.
Retractable model
• Easily extends by pulling on both ends and retracts back to its durable ABS housing.
• Compact size makes it ideal for mobile computing.