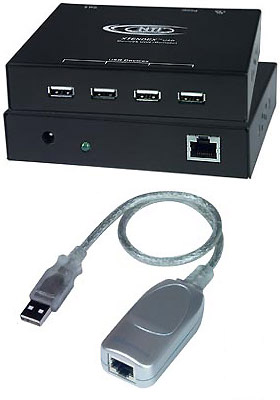 XTENDEX™ USB break through the 5 meter barrier for USB extension
Break through the five-meter barrier on placement of USB peripherals With NTI's XTENDEX™ USB Extenders.
Ideal for file server control or security surveillance cameras, you can now place up to four (4) USB devices (keyboards, mice, cameras, printers, scanners, etc.) where you need them - up to 150 feet from the host USB computer - using unshielded CAT-5 cable.
Some XTENDEX™ USB Extenders also acts as a remote USB hubs. They are comprised of two units, the Local unit and the Remote unit, which are interconnected with CAT-5 cable. Add peripherals using simple Plug and Play - you don't even need to shut down and restart the computer. The CPU automatically detects the peripheral device and configures the necessary software.