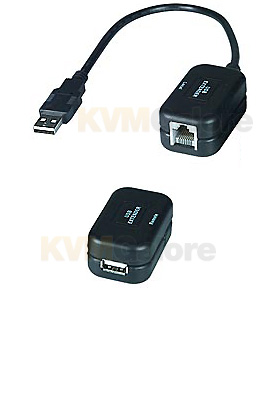 Buy this item and earn 28

Club

Points.
USB-C5-LC: USB extender overcomes the distance limitation between a computer and its USB devices
The USB Extender is an easy to use hardware solution that extends any USB peripheral device from the host computer to a distance of 150 feet.
The USB Extender overcomes the 16-feet distance limitation of direct USB connection to the host computer, using standard CAT5 cable.
The USB Extender is the simplest and most economic way to extend your USB device beyond the standard 16-feet, while preserving the investment in existing hardware.
Applications
The USB Extender provides the ideal solution for both SOHO and corporate environments. Applications are limitless and include security cameras, barcode scanners, extension of keyboard in a conference room, printers, scanners or anywhere with a potential need to extend the distance between a host computer and a peripheral USB based device.
Features and Benefits
• Overcomes the USB distance limitation - extends up to 150 feet
• Pure hardware, requires no external power adapter
• No additional software required for either computer or peripheral device
• 100% compatible - compatible with any USB device
• Compliant with the standard specifications of USB 1.1
• Patented ASIC's (Application Specific Integrated Circuits) built in
• Embedded USB Transceivers at both ends to prevent signal loss
• Two years warranty
Warning!
This device is not designed to be connected to an Ethernet card, Ethernet router, hub or switch or other Ethernet RJ45 connector of an Ethernet device. Damage to devices connected to the Ethernet may result.