Gefen store on KVMGalore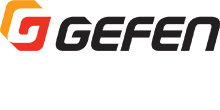 Gefen offers the following product lines:
Gefen delivers innovative, progressive computer and electronics add-on solutions that harness integration, extension, distribution and conversion technologies. Gefen's reliable, plug-and-play products supplement cross-platform computer systems, professional audio/video environments and HDTV systems of all sizes with hard-working solutions that are easy to implement and simple to operate.
Consistently the first-to-market with its solutions, Gefen was at the forefront of the digital video and HDTV (high definition television) evolution, providing HDTV problem-solvers that split, distribute, extend and convert HDTV for maximizing any digital video environment, regardless of scope and stature.
Solutions support both modern and traditional audio/video interfaces, including DVI, Dual-Link DVI, HD SDI, HDMI, Component, USB and FireWire. Computer interfaces such as RS-232, PS-2, VGA and ADC plus digital and analog audio are supported as well. A high quality selection of CAT-5, DVI, HDMI and fiber optics cables caps off the product line.
Standard warranty: Two years.
Company Background
Gefen Inc., a privately held company, emerged as a player in the computer connectivity arena in 1995 when it designed a line of computer peripheral extenders known as the ex-tend-it Professional Series. The products, which extended KVM (keyboard, video, mouse) peripherals away from the computer, were originally designed for application in post-production studios where computer noise interfered with production. Switchers, which access multiple sources from a single KVM workstation, were also developed together with distribution amplifiers, splitters, converters and cables as the product line naturally evolved.
In the late 90s, Gefen became an early adopter of the digital interfaces that would soon develop into HDTV support solutions for both professional and consumer industries. To accommodate the time in-between analog and digital worlds, Gefen's success in the conversion and adaptation of traditionally incompatible video signals (analog and digital) has added to its reputation as an innovative solutions provider.
Gefen continues to remain on the leading edge of new technologies and their applications, and is consistently the first-to-market with innovative products that are highly valued in most major industries spanning the globe.
Products
Gefen's conversion, integration, distribution and extension solutions are augmented by a line of premium cabling. Solutions support an array of connectivity interfaces including HDMI, DVI, dual link DVI, HD-SDI, SDI, VGA, RCA, USB, Firewire and RS-232.
Commitment
Gefen will always offer the finest quality products at the best possible price. Included in that price is a lifetime of free support from a team of outstanding engineers.