PureLink store on KVMGalore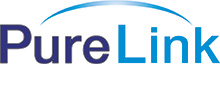 PureLink offers the following product lines:
Looking for a better price? Write to us or call us at 1-800-636-3434 and ask for our special offer.
---
Behind every display, a PureLink solution can be customized to deliver your message in its purest form.
Focused on innovation and quality, PureLink is the leading provider of digital connectivity solutions to commercial audio/video and IT markets worldwide. Since its inception in 2001, PureLink has been committed to developing cutting-edge audio, video, and computer signal processing solutions, constantly driven by the changing needs of the professional customer.
PureLink has pioneered a powerful line of matrix-switching, format conversion, signal distribution, and long-distance extension systems that are optimized to support any consumer or commercial application. All of these advancements have resulted from PureLink's unparalleled R&D and quality assurance, providing customized solutions and setting sights on creating a better user experience.
The latest technology does not automatically translate to a better solution. In its quest for total connectivity transparency, PureLink eschews marketing hype for real-world reliability, repeatability, and durability. With such solutions often the most difficult to create, however, PureLink constantly refines its solutions by combining detailed end-user feedback with theoretical sophistication to create a consistently superior user experience.
Government, military, business, education, entertainment, and healthcare markets rely on PureLink's technology every day. One step ahead and always at the forefront of innovation – PureLink is the choice of informed professionals.
PureLink's goal is simple – to bring HD video signals to its destination while retaining the "purity" of its original form. That is, an image or sound that is as clear and impressive as it should be – in real time, every time.
Standard warranty: Three years (Lifetime for TotalWire™ non-electronic products)