StarTech store on KVMGalore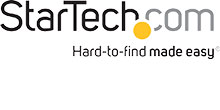 StarTech offers the following product lines:
Since 1985 StarTech.com has provided a complete range of IT and A/V products for a diverse customer base that spans many channels, including government, education and industrial facilities to name just a few. We are dedicated to providing comprehensive information in order to simplify your purchasing process and to ensure that the solutions you need are available when and where you need them.
While every StarTech.com product offers uncompromising quality and workmanship, we never lose sight of our customers' individual needs - our free, live pre and post sales and technical support are second to none.
Your One Stop Source
Save time and money by sourcing all your connectivity, technology and hard-to-find parts from one convenient source. With over 2000 products in 43 product lines, you're sure to find the right parts to complete your next solution.
Fast and Friendly Service and Support
Free, live, lifetime support from our North American-based team of technical specialists takes the worry out of completing your solutions. Receive immediate answers to your questions over the phone or receive a response by email within two hours during regular business hours, guaranteed!
Warranty: 2 years, with free lifetime technical support.