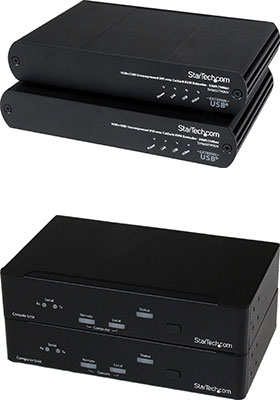 Extend DVI or HDMI video, USB keyboard/mouse (and peripherals) up to 6,562 feet
over CATx or fiber-optic cabling, with optional audio and serial signals
---
• Support most combo keyboard/mouse sets (including wireless)
• Brilliant picture quality with support for high-definition TV resolutions up to 1920x1080 (1080p), and PC resolutions up to 1920x1200
• Hotkey and push-button control
• Local Transmitter and remote Receiver units are included
• HDCP compliant
Startech HDMI/DVI KVM console extenders let you control a server, computer or multiple computers (connected through KVM switch) over a CATx or multi-mode fiber link, at distances of up to 6,562 feet (1.2 miles) away.
By transmitting the digital HDMI or DVI video over a CATx or multi-mode optical fiber link there is no loss of signal quality, so the video is as sharp and vivid as if the monitor was connected directly to the PC.
For added convenience, the console/KVM extenders supports USB computer connections, and are compatible with any brand of USB KVM switch.