Key Digital store on KVMGalore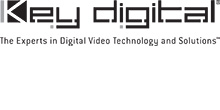 Key Digital offers the following product lines:
Key Digital is an award winning (CES, InfoComm, CEDIA, NAHB) developer and manufacturer of leading-edge technologies in HDTV and control and automation applications. Led by digital video pioneer Mike Tsinberg, Key Digital develops and manufactures high quality, cutting-edge technology solutions for virtually all applications where high quality video imaging and simple and intuitive control and automation solutions are important. Key Digital designs and engineers best in class products in the cables and wiring, HDMI extenders, switchers, distribution amplifiers, audio and video matrix switchers and automation categories.
Key Digital has evolved throughout the years with a strong brand presence and recognition within the highly advanced video/audio industry. With its ground breaking technology, product ingenuity and versatility Key Digital's product line has proven to cater to a wide variety of markets. Key Digital's extensive range of products stand above the competition in giving customers an ironclad solution, which is why you can find their products in retail stores, houses of worship, bar and restaurants, hospitality, digital signage, corporate A/V, government, entertainment, healthcare, education, command and control, luxury transportation and residential environments.
Key Digital is so confident in the quality, performance and reliability of its products that they have decided to offers an unprecedented industry first 10-year warranty on its entire line of products. So the next time you are planning your video and audio installation, look to Key Digital as they are at the forefront of technology with the innovative features and solutions you've been looking for.
Standard warranty: 3 years