C2G store on KVMGalore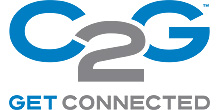 C2G offers the following product lines:
C2G – Service through every connection.
C2G designs, manufactures and distributes cables, peripherals, accessories, connectors, switch boxes and networking products for the computer industry. C2G pride themselves on the quality of the products that they offer as well as the level of service and technical support that they offer to their customers. C2G strives to be an industry leader in the design and marketing of computer connectivity products while providing and extraordinary customer experience.
For over 20 years, they have been offering connectivity solutions to thousands of VARs, integrators, installers, and distributors.
C2G has built their reputation on providing exceptional service in delivering high quality, cost-effective solutions to channel partners and customers worldwide. With their team of over 100 U.S.-based employees they are able to deliver stock and custom connectivity solutions for computer, computer network, audio/video, and CATV/SATV applications.
C2G understands that each customer is unique and needs to be treated as such. They provide services to support the unique needs of their customers including lifetime warranties on all cables, free online and telephone technical support and custom cabling among other things.
Technical Expertise - C2G focuses on connectivity. From cables to switchboxes and everything in between, they are committed to being the technical experts in this field. This ensures us that we are providing the right advice and the right product to you, our customers.
Commitment – C2G provides cost-effective, high-quality connectivity solutions. Whether your business is computer or audio/video related, they dedicate themselves to delivering solutions that make you profit both short and long-term.