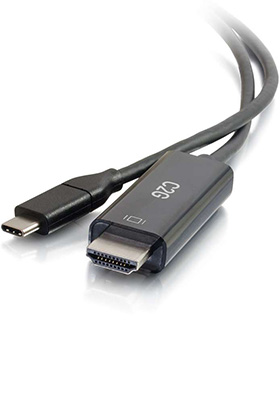 Connect a USB Type-C device to the HDMI port of an HDTV or projector
to display video and audio at 4K
---
These USB-C to HDMI audio/video adapter cables 4K allow for a direct connection of a USB-C device to an HDTV, projector, or other display with an HDMI port, making it an ideal solution for the office, work space applications, or home use.
The form factor of these adapter-cables provide a simple and convenient solution that eliminates the need for a separate adapter and cable.
These adapter-cables utilize the audio/video support built into USB Type-C ports to feed an audio/video signal to an HDMI HDTV or projector. These adapters support up to a 4K (3840x2160) resolution, allowing it to deliver a high quality video image to the connected display.