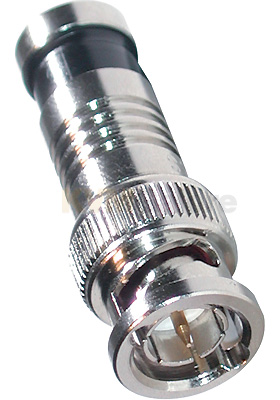 Customize Your Home Theater, Broadcast Video and CCTV Surveillance Cables; Easier than Traditional BNC Connectors.
Quickly customize the length of your home theater or broadcast video cables with these connectors.
Nickel-plated brass provides years of reliable service. Barbs within the connector centerpin provide a reliable signal path, and ensure a positive connection to the cable's center conductor.
These connectors are a breeze to install and more reliable and easier to use than traditional hex crimp BNC connectors.
Simply prepare the cables in the same manner as an F-Type connector, insert the connectors onto the coax cables and compress them with the 3-in-1 compression tool (item #
38011
).