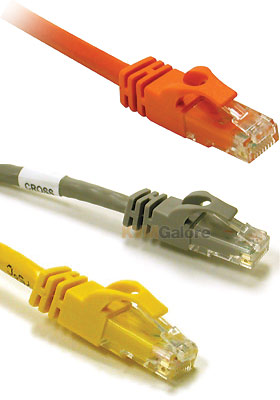 550MHz Rated CAT-6 Patch Cables for 10/100 Ethernet with Snag-Free "Clip" Reduce Impedance and Structural Return Loss (SRL) and Keep Near-End Crosstalk (NEXT) Levels to a Minimum, Providing Unparalleled Performance for Peer-to-Peer and Crossover Applications.
Fast, fast, fast - the three words that describe Cables To Go's Cat6 network cables. Perfect for distributing data, voice and video, these 550MHz rated patch cables ensure you always have the necessary throughput to handle today's and tomorrow's bandwidth-intensive applications. Each cable is fully tested and quality inspected, ensuring all EIA/TIA Cat 6 TIA/EIA- 568-B-2.1, draft 9 standards are met.
Cat6 patch cords from Cables To Go drastically reduce both impedance and structural return loss (SRL) as compared to standard 100 Mhz wire, which ensures error-free transmission! Constructed with high-quality cable and a shortened body plug, this design will keep Near-End Crosstalk (NEXT) levels to a minimum.
The all-new molded, snag-free "clip" prevents unwanted cable snags during installation without impairing your ability to insert and remove the connector from the port. It also provides unparalleled strain-relief, so that the cable is not damaged even when pulled on excessively.