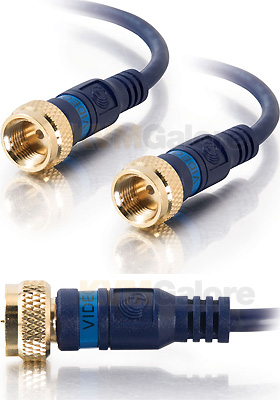 The Easy Way to Run Antenna and CATV Connections from the Wall to Your Components, or Between Components.
Ideal for attaching cable boxes, VCRs, MSNŽ TV or any video source with F-Type output connections to any TV with matching F-Type input jacks.
These cost-effective high-performance cables deliver maximum video quality in a super-thin design that neatly hides between the carpet and baseboard.
Low loss 75 Ohm pure copper center conductor wire and foam dielectric ensure optimum picture resolution and color.
A MylarŽ foil and braid shield provide a clear, noise-free, vivid picture while protecting against unwanted noise and interference. The fully-molded connectors attach to an ultra-flexible PVC jacket, provide excellent strain relief, and enable easy installation. Corrosion-resistant, precision-made, 24K gold-plated heavy-duty connectors ensure long-lasting, high-performance connections.