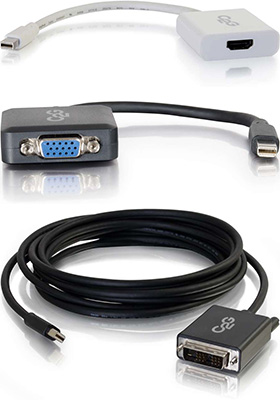 Connect a device with a Mini DisplayPort or Thunderbolt™ output to a DVI, HDMI or VGA monitor
These adapters/converters are an ideal solution for converting the Mini DisplayPort or Thunderbolt output of a small laptop or tablet so that it may be connected to a monitor which accepts a DVI, HDMI or VGA input.
Be prepared for any meeting, presentation, or event with the full confidence that you have the right connection in an ultra-compact design. These Mini DisplayPort adapters/converters can connect a Mini DisplayPort equipped laptop or tablet to a projector, monitor, or HDTV with a DVI, HDMI or VGA input port. The compact design of these adapters/converters makes it a perfect fit for BYOD (Bring Your Own Device) applications in education or corporate environments.
These simple plug and play adapters/converters do not require drivers for install and the devices are powered through Mini DisplayPort bus power, so no additional power adapters are needed.
The dongle-style adapters/converters reduce strain on the video port. The cable between the Mini DisplayPort connection and the adapter/converter provides strain relief that protects the port from strain damage as cords are moved.