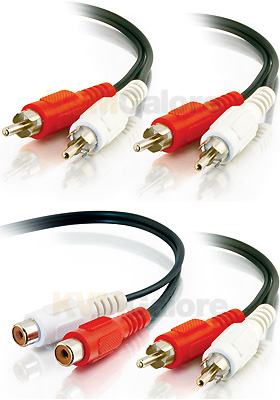 Connect or Extend the Stereo Audio Signal from your DVD Player, Digital Camcorder, Satellite Receiver, or PC with TV Out to your TV, Monitor or A/V Receiver.
Make the right choice to connect your DVD player, satellite dish, camcorder, computer, Hi-Fi VCR or any source with composite audio (left/right) to your TV, monitor or A/V receiver.
Ordinary "included in the box" audio cables often use low quality materials with inferior shielding that can result in poor quality. But Cables To Go's RCA cables deliver all the detail you expect from your audio equipment.
The connectors are color-coded for easy installation and identification and are fully molded to provide excellent strain relief to keep your cable intact. Nickel terminals ensure long-lasting, corrosion-free connections while the PVC jacket provides added flexibility and durability.
The RCA audio extension cable (40468) extends audio signals by 6 feet.
All cables are backed by a lifetime warranty.