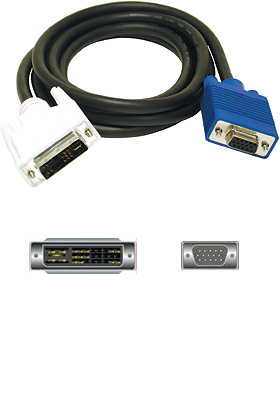 Connects a computer's VGA port to a monitor with a DVI-I connector
Digital Visual Interface (DVI) is the standard interface for high-performance connection between PCs and flat panel displays, CRT displays, projectors, and HDTV.
These video cables are fully compliant with the DVI standard defined by DDWG (Digital Display Working Group). Three analog 30 AWG coaxial lines enable high speed analog transmission.
Tri-shielded undermold and braid shield protects against unwanted EMI/RFI interference. Each coax line is individually wrapped in foam-polyolefin insulation and overwrapped with a braided tinned copper shield.
28 AWG copper conductors are individually insulated in hard-density polypropylene to minimize crosstalk, and ensure high-speed, error-free transmission. Gold-plated contacts provide full conductivity with no data loss.
PC and Mac compatible cables support hot-plugging of DVI display devices.