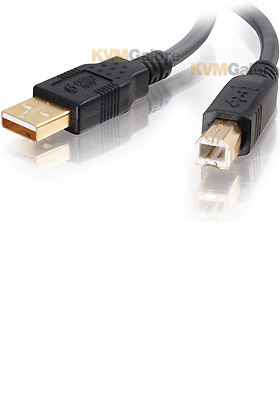 Ultima USB 2.0 A/B Cables
Premium, high-performance cables to connect USB 2.0 devices to USB hubs or computers, with twisted pair construction for reduce crosstalk and dual foil and braid shielding
Read more below...

$8.44
MSRP: $13.00 -
You save $4.56

$12.34
MSRP: $18.99 -
You save $6.65
Ultra-premium, high-performance USB 2.0 A/B cables
to connect your USB device to the USB port on your USB hub, PC or Mac®
---
Ultima USB cables optimize style, quality, and value in a cable specially designed for high performance. Just plug-and-play for keyboards, mice, modems, printers, and other USB peripherals, and these cables will deliver high-speed data transfer up to 480 Mbps.
Heavy-duty 24 AWG power wires provide the proper current to your USB device. Dual foil and braid shielding reduces EMI/RFI interference while twisted pair construction helps reduce crosstalk thus ensuring high-speed, error-free data transfer.
The sleek design of the molded connectors makes them easy to grip. The metal connector shield helps to meet FCC requirements on EMI/RFI interference, while a solder-to-connector shell and cable braid create an end-to-end shielding solution for a noise-free connection.
24k gold-plated connectors provide maximum corrosion resistance for error-free data transfer. The charcoal gray cable jacket not only matches your case but disappears behind your desk leaving a clean organized look. Finally, an ultra-flexible jacket makes installation easy.