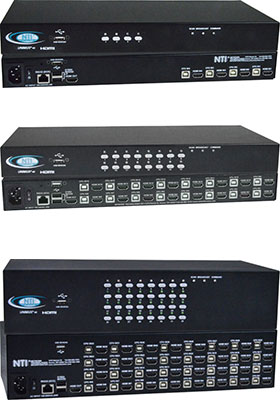 Control 2, 4, 8, 16, 24, or 32 Ultra-HD 4K HDMI-USB computers from one keyboard/mouse and 4K HDMI monitor
with USB 2.0 peripheral sharing
---
UNIMUX™ HDMI-USB KVM switch allows a single user to control 2, 4, 8, 16, 24, or 32 Ultra-HD 4K USB computers with one USB keyboard, USB mouse and 4K HDMI monitor. Dedicated internal microprocessors emulate keyboard and mouse presence to each attached CPU 100% of the time so all computers boot error-free.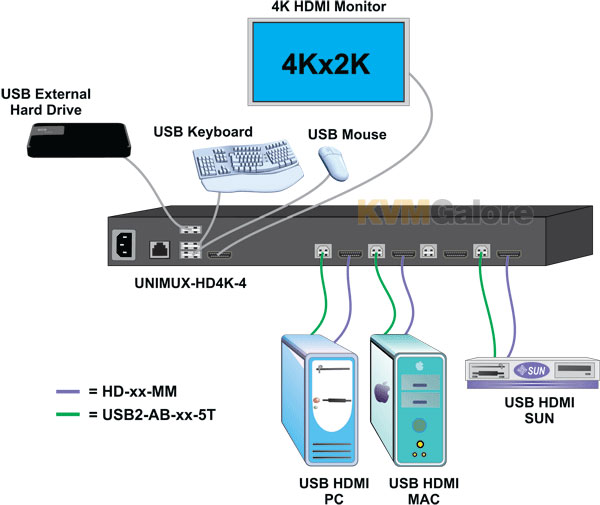 UNIMUX™ HDMI-USB KVM switch features an on-screen display (OSD) and a built-in fully transparent USB 2.0 hub. This means that when a USB device is connected to a transparent USB port, it is the same as if the device was being plugged directly into the computer's USB port. The transparent USB hub is capable of supporting any two low-, full-, or high-speed USB 2.0 devices, including but not limited to touchscreens, card readers, printers, scanners, and thumb drives.
Connections use standard HDMI and USB cables.
HDMI resolutions up to 4K are supported.
• Features NTI's patented true autoboot USB switching - all attached computers can be booted simultaneously
• Compatible with USB computers (PC, Sun and Mac)
• Control the switch through the front panel buttons, hot-key keyboard commands, OSD, or RS232
• Two transparent USB 2.0 ports (low/full/high speed), in addition to keyboard and mouse ports, for connecting USB devices such as printers, game controllers, USB flash drives, touch screen monitors, whiteboards, etc.
• High quality steel construction
• Flash upgradeable
• Rack-mount kit included