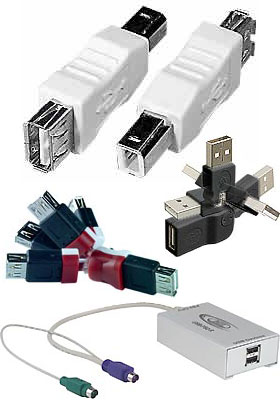 USB to PS/2 and USB to Sun adapters
USB to USB straight adapters and gender-changers
USB to USB articulating (rotating and flexible) adapters and gender-changers
The 3D articulation of the rotating and flexible USB adapters allows you to connect USB devices in cramped spaces from almost any angle.
• Ideal for desktop or notebook computers.
• Suitable for printers, scanners, cameras and more.
• 3D articulation: pivots, swivels, and turns.
• Compliant with USB 2.0 and USB 1.1 specifications.
• Fits easily into tight spaces.