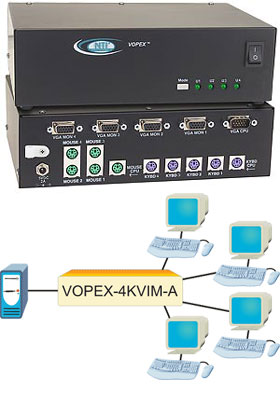 VOPEX PS/2 KVM Splitters
Access one PS/2-VGA computer from up to four (4) controlling locations (keyboard, mouse & monitor consoles)
Read more below...

$266.00
Compare to MSRP $290.00 -
You save $24.00

$303.00
Compare to MSRP $330.00 -
You save $27.00
Access One PC from Multiple Control Locations: Up to Four (4) PS/2 Keyboards, Mice & VGA Monitors Can be Connected to One PS/2 Computer.

VOPEX® KVM splitter allows up to four users to share the use of one PS/2 computer.

Use extension cables to extend controlling consoles (keyboard, monitor and mouse) up to 100 feet away.

• Access one computer from multiple locations.
• Multiple users can enter data into the same program.
• PS/2 models are compatible with all PS/2-style PCs, RS6000, SGI and HP9000 computers.

• Interconnect NTI switches and splitters for complex applications.
• Allows access to a PC from inside and outside of a clean room.