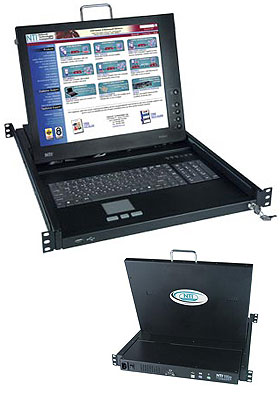 USB + PS/2 KVM drawers provide space-saving convenient control
RACKMUX® USB + PS/2 KVM Drawer combines a rackmount LCD monitor, keyboard, and touchpad mouse in a space-saving 1RU industrial strength drawer.

• Active Matrix LCD flat panel VGA monitor.
• Compatible with USB and PS/2 computers.
• Torque-friction hinges-monitor does not wobble, spring, or slam shut.
• Compact, heavy-duty tactile keyboard.
• Available with 17-key numeric keypad or large padded wrist-rest.
• Drawer locks into place when open to prevent it from sliding in and out of the rack.
• Available with optional mounting bracket for two-post style telco rack.
• Rugged steel construction with durable powder coat finish.
• LCD auto-shutoff in closed position
• Internal cable arm provides proper cable management for sliding the drawer open and closed.
• Equipped with On Screen Display (OSD).
• Front panel security lock.
• Front panel USB port to connect an external USB device, such as a flash drive.