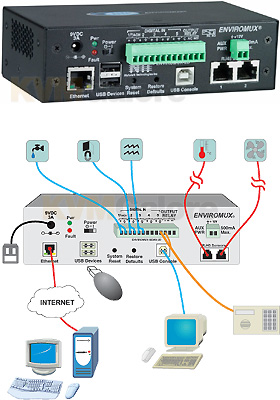 Small-enterprise environment monitoring systems
for monitoring and managing environmental conditions over IP, providing early warnings before critical events turn into disaster

---
Highlights
• 2 external configurable sensors, 5 digital inputs, 1 output relay
• Configure Smart Alerts for different event combinations
• User-programmable IP camera snapshots
• Linux inside
• Multi-language support – English, German, Indonesian, and Japanese
Compare ENVIROMUX® Environment Monitoring Systems.
ENVIROMUX® enterprise environment monitoring systems monitor critical environmental conditions such as temperature, humidity, liquid water leakage.
When a sensor goes out of range of a configurable threshold, the system will notify you via email, SNMP traps, web-page alerts, a visual indicator (red LED), voice phone calls (via Automatic Voice Dialer System), and SMS messages (via USB 3G modem).
ENVIROMUX-2D support two external configurable sensors, 5 digital input sensors and one output relay for control of external devices.
ENVIROMUX-2D feature two USB ports for USB modem or USB flash drive.
Linux inside.