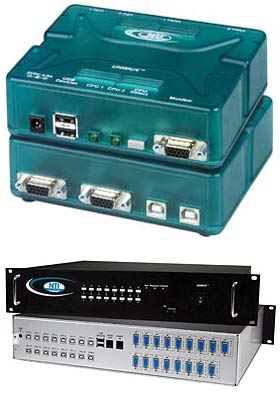 UNIMUX™ USB KVM switchs allows a user to control up to 32 USB computers with one USB keyboard, USB mouse and VGA monitor.
Dedicated internal microprocessors emulate keyboard & mouse presence to each attached CPU 100% of the time so all computers boot error-free.
• Features NTI's patented true autoboot USB switching - all attached USB PCs, MACs and SUNs can be booted simultaneously (unlike some other USB KVM switches on the market that require individual, sequential boot-up).
• Compatible with USB-enabled PCs.
• Compatible with SUN Blade 100, SUN 1000, SUN Ray, SUN Fire(tm) 280R, and other USB-enabled SUN computers.
• Compatible with MAC G3/G4s.
• Supports MAC soft (keyboard) power-on.
• Crisp & clear 1900 x 1200 video resolution.
• Fully compliant with (1.0, 1.1) USB standards.
• USB SUN start-up keys are supported.
• SUN extra keys are emulated on USB keyboards with Windows keyboard layouts.