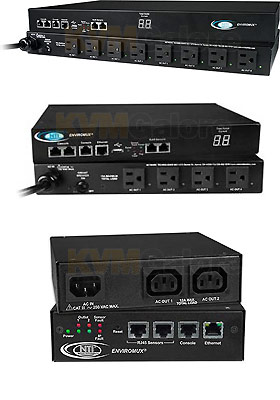 Secure remote power control units with environmental monitoring
Securely control power on/off/reboot to a server, router, web cam, firewall or other remote devices over IP.
• Power on/off/reboot
• Linux inside
• IPV 6 Compatible
• Shut down power when high temperature and other threats detected
ENVIROMUX® Secure Remote Power Control units allow you to remotely reboot and control power (on/off) to up to 8 servers or other powered devices from any location via secure web interface, RS232, SSH, or Telnet.
Three (3) operating modes for power reboot:
• Manual — select the outlet and turn the power on/off.
• Scheduled — set date/time/duration of power cycle.
• Associated — power on/off a device when a sensor goes out of range of a user-defined threshold, or reboot unresponsive IP devices.