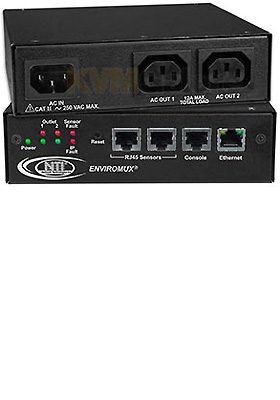 Buy this item and earn 477

Club

Points.
IPDU-S2: Secure remote power control unit with environmental monitoring
securely control power on/off/reboot to a server, router, web cam, firewall or other remote devices over IP
---
• Power on/off/reboot
• Linux inside
• IPV 6 Compatible
• Shut down power when high temperature and other threats detected
ENVIROMUX® Secure Remote Power Control Unit allows you to remotely reboot and control power (on/off) to 2 servers or other powered devices from any location via secure web interface, RS232, SSH, or Telnet.
Three (3) operating modes for power reboot:
• Manual — select the outlet and turn the power on/off.
• Scheduled — set date/time/duration of power cycle.
• Associated — power on/off a device when a sensor goes out of range of a user-defined threshold, or reboot unresponsive IP devices.
Features and Benefits
• Security: HTTPS, SSHv2, SSLv3, IP Filtering, LDAPv3, AES 256-bit encryption, 16-character username/password authentication, user account restricted access rights.
• Configure, control and monitor the unit via Web interface or Command Line Interface (CLI).
• Monitor (ping) up to eight IP network devices.
• Supports two environmental sensors, including: temperature, humidity, and water detection.
• Sends alert notifications via email, syslog, LEDs, Web page, SNMP
• Meets the electrostatic discharge (ESD) immunity requirements of IEC/EN 61000-4-2
• Features Normally Open (NO) relay contacts.
• Two years warranty
Web Interface
• Configure, control and monitor via HTTP/HTTPS webpage.
• Configure outlet operation settings, sensor thresholds and timing, alarm methods, alert formats, sensor/IP device outlet association, and system data log.
• View outlet status, sensor values, IP device values, and alert status on one summary page.
• View, Edit, Turn On/Off, Cycle buttons for each power outlet.
• View and Edit sensors and IP devices.
• View entries stored in the system logs.
• Event log records system events such as alerts, user login/logout, failed email messages, etc.
• Data log records samples of sensor readings. User specifies sampling time period.
• The log can be downloaded as a tab-delimited plain text file.
• Configure IP information, SMTP settings, SNMP settings, IP filtering, and user administrative settings.
• Administrate up to 15 users plus a root administrator.
• Configure permissions, schedule and alert methods for each user.
RS232/Telnet/SSH
• Configure, control and monitor over the text-based menu system accessible via RS232, Telnet, and SSH.
• Access is controlled via username/password.
• System stores encrypted login information.
• Two user levels: user and administrator.
Front Panel LED Indicators
• "POWER" (green) — indicates device is powered.
• "OUTLET" (green / red) — outlet is on or off.
• "SENSOR FAULT" (red) — lights up if a sensor goes out of range of a configurable threshold.
• "IP FAULT" (red) — lights up if an IP device is unresponsive.
Network Operation
• SNMP support, allowing integration into network management platforms.
Open Source Monitoring Integration
• SNMP Plugin for Nagios
• Graph of data generated from sensors using MRTG Using Multi Router Traffic Grapher.