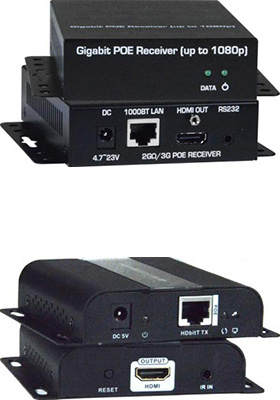 Extend HDMI over Gigabit Ethernet
with optinal infrared (IR), RS232 and power over Ethernet (PoE), up to 333 feet; use with cascaded network switches to extend up to 1000 feet
---
XTENDEX® HDMI over Gigabit IP extenders multicast digital video and audio signals to one or more receivers up to 333 feet away over a 1000BaseT Gigabit network connected with CAT-5e/6/7 cable.
Each extender consists of a local unit that connects to an HDMI source, and a remote unit that connects to an HDMI display. The local and remote units can be connected together for a point-to-point connection via CATx cable or an Ethernet switch. Point-to-many connections and many-to-many connections get facilitated using a network switch.
Support for multiple transmitters requires a managed network switch with VLAN/IGMP support, while standard LAN switches can support one transmitter.