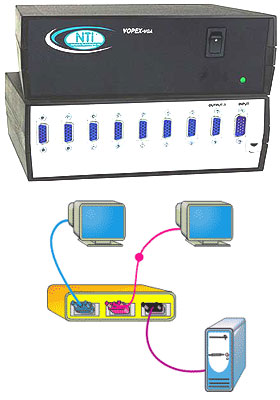 VOPEX® VGA video splitters (video port expanders) enable 2, 4, 8 or 16 VGA or SVGA monitors to be driven by a single PC, Sun or Mac.
The same image is displayed on up to 256 monitors by cascading.
By using
VEXT
cables, 1900x1200 resolution can be extended 50 feet, and 1600x1200 can be extended 100 feet with no degradation.
Full DDC2B communications are supported on Output-1.
• Ideal for classrooms, tradeshows, or in-store displays where high quality video on multiple monitors is needed.
• Burn-in monitors after repair.
• Supports VGA/SVGA monitors, including LCD flat panel monitors.
• 1900 x 1200 resolution with no degradation.
• Supports the DDC2B protocol.
• Available with optional stereo audio.