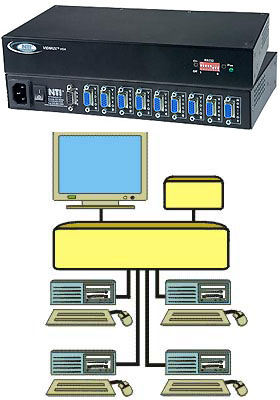 Share one monitor among multiple PCs
with optional audio and RS232 control
---
VIDMUX® VGA video switch enables up to 16 computers to be connected to a single video monitor, projector or LCD/plasma screen.
• Compatible with PCs, SUNs and MACs with VGA video.
• Eliminate redundant monitors.
• Ideal for classrooms and boardrooms.
• Interconnect NTI switches & splitters for complex applications.
• Available with RS232 control option and with audio option.