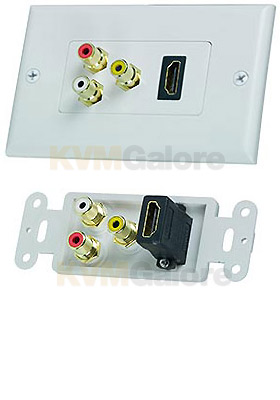 Feed-Thru Wall Plates for HDMI, Optionally Combined with Component Video, F-Type video, RCA Composite Video, RCA Stereo Audio and RCA Digital Audio.
Couple HDMI cables and (optional) RCA audio/video cables, s-video or F-Type video within an in-wall installation.
• Perfect for HDTV and home theater needs.
• HDMI 1.3 rated.
• Color Coded RCA jacks.
• Single gang, standard US electrical box.
• Standard single-wide white wallplate.