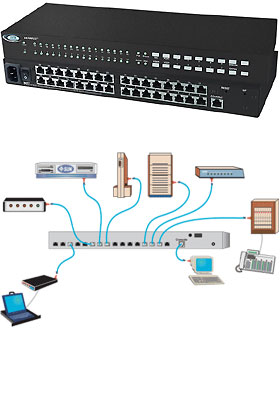 SERIMUX
Console serial port switches that control up to 32 network serial devices locally from one ASCII terminal or through an Ethernet interface
Read more below...

1) SERIMUX 16-Ports Model No. SERIMUX-CS-16 In stock
$719.00
MSRP: $785.00 -
You save $66.00

2) SERIMUX 8-Ports Model No. SERIMUX-CS-8 In stock
$588.00
MSRP: $640.00 -
You save $52.00
SERIMUX® console serial port switches provide remote network management from one central location. Up to 16 network devices can be controlled locally from one ASCII dumb terminal with menu-driven integrated software, the front panel keypad, or optional Ethernet interface.
These intelligent console switches provide a convenient method of connecting multiple RS216 devices for on-site and dial-up remote communications.
Network administrators can manage server farms or data centers via serial ports and standard external modems. Out-of-band access allows administrators to control multiple UNIX computers and LAN/WAN components, even if the network is down!
Obtain status, manage servers, and diagnose problems, all without shutting down devices. Troubleshooting failures is simplified by built-in data buffers which save recent RS216 console output from each connected device. These serial port switches eliminates the need to connect each device to a dumb terminal or PC.
Remote access is convenient and secure, with port-specific names and passwords. Administrators can individually access and configure each port. SERIMUX™ switches are controlled by push buttons on the front panel, or via a dumb terminal by a menu-driven integrated software.