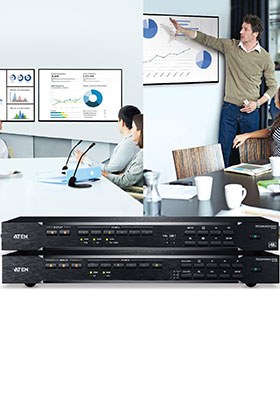 Versatile multi-in-one presentation solutions designed for conference and meeting room applications
with simplified AV integration and control, intuitive OSD and optional Web GUI for commercial and educational spaces
---
ATEN AV presentation switches that integrate a video matrix switch, an audio processor, and analog-to-digital converter functions. With up to nine multi-format inputs to two local and remote (HDBaseT) outputs they are designed to boost the efficiency and impact of professional presentations.
With streamlined control from front panel pushbuttons, IR remote controller, OSD, RS-232 and Web GUI interface, ATEN AV presentation switches reduce not only system device count, but also lower operation complexity.
They are suitable for all small-to-medium sized corporate and education presentation environments such as meeting rooms, classrooms, training rooms, or any other presentation setting, such as in exhibition centers or hotels.
VC1280: 2 local inputs; 1 local output; 4K w/ analog-to-digital conversion
VP1420: 4 local inputs; 2 local outputs; 4K w/ analog-to-digital conversion; audio embedding / de-embedding
VP1421: 3 local inputs; 1 HDBaseT input; 2 outputs (local + HDBaseT); 4K w/ analog-to-digital conversion; audio embedding / de-embedding
VP1920: 9 local inputs; 2 local outputs; 4K w/ analog-to-digital conversion
VP2120: 5 inputs (1 local, 4 WiFi); 2 local outputs; 1080p
VP2730: 7-inputs, 3-outputs, 1080p collaborative solution facilitates distance-free content sharing w/ scaler, streaming, audio mixer and HDBaseT
VP3520: 5-inputs (3x HDMI; 2x HDBaseT), 2-outputs (1x HDMI; 1x HDBaseT), 4K