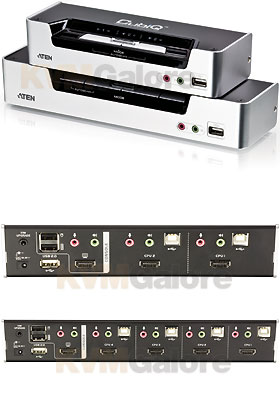 USB-HDMI KVM switches supporting Hi-Def video
sharing audio and USB 2.0 peripherals through a built-in 2-port hub among 2, 4, 8 or 16 HDMI or DVI computers
---
ATEN's HDMI USB 2.0 KVMP switches are a revolutionary new concept in KVM switch functionality. Combining a 2- or 4-port KVM switch, a switchable 2-port USB hub, and full HDMI support, the result is a dual-purpose unit that may be used as a KVMP switch, HDMI video switch, or combination of both, allowing you to connect multiple Hi-def sources to the HDMI input of your TV or monitor.
ATEN's HDMI KVMP switches are fully compliant with HDMI standard 3.1a, HDCP, and Dolby True HD and DTS HD Master Audio.
When used as a KVM ATEN's HDMI KVMP switches allow users to switch access and control of two or four computers using a single keyboard, mouse and monitor. They also permit independently switching audio and peripheral devices such as printers, or external hard drivers between the attached computers.
ATEN's HDMI KVMP switches provide HDCP pass through to allowing their use as HDMI switches to expand your monitor or HiDef Television to include X box360, Blu-ray, TiVo, or most any other HDMI compliant source.
ATEN's HDMI KVMP switches are a snap to set up, simply connect your mouse keyboard and monitor to the console side and attach your video sources to the input side – no software to install and no configuration hassles.
CS17916 - 16-port USB HDMI KVMP switch with a built-in 2-port USB 2.0 hub for peripheral sharing
CS1792 - 2-port USB HDMI KVMP switch with a built-in 2-port USB 2.0 hub for peripheral sharing
CS1794 - 4-port USB HDMI KVMP switch with a built-in 2-port USB 2.0 hub for peripheral sharing
CS1798 - 8-port USB HDMI KVMP switch with a built-in 2-port USB 2.0 hub for peripheral sharing