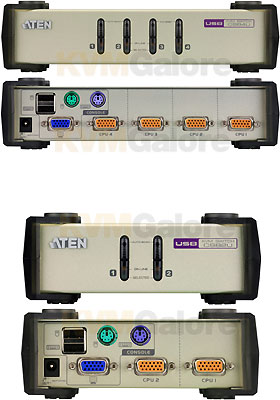 USB-PS/2 KVM Switches w/ Cables
2- and 4-port USB-PS/2 KVM switches for PC, Mac, Sun computers come with DynaSync™ technology for optimized resolution and cables included
Read more below...
2- and 4-port USB-PS/2 KVM switches with cables included
PS/2-USB KVM switches desktop control unit that allow users to access up to four (4) computers from a single KVM console (PS/2 or USB keyboard and mouse, and VGA monitor).
ATEN's USB-PS/2 KVM switches work on multiple computing platforms and come with ATEN's new Video DynaSync™ technology, which eliminates boot-up display problems and optimizes resolution.
Setup is fast and easy; simply plug cables into their appropriate ports. There is no software to configure, no installation routines, and no incompatibility problems.
CS82U: 2 ports
CS84U: 4 ports