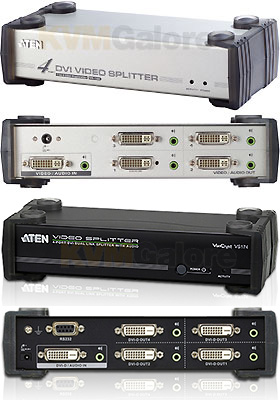 2- and 4-port DVI video splitters with audio
The DVI video splitters duplicate and boost the signals from a single DVI video and audio source to two or four DVI displays and audio outputs.
The DVI video splitters are ideal for any type of broadcasting environment, classrooms, or by power computer users.
The DVI video splitters also feature audio support and are able to be daisy chained for additional viewing.
VS16x models support 1920x1200 DVI resolution.
VS17x models support 2560x1600 dual-link DVI resolution, and their built-in bi-directional RS-232 port on the rear panel allows the splitters to be controlled through a control unit, PC, and/or home automation/home theater software package for complete system integration.
VS162: 2-port DVI video splitter with audio
VS164: 4-port DVI video splitter with audio
VS172: 2-port dual-link DVI splitter with audio
VS174: 4-port dual-link DVI splitter with audio