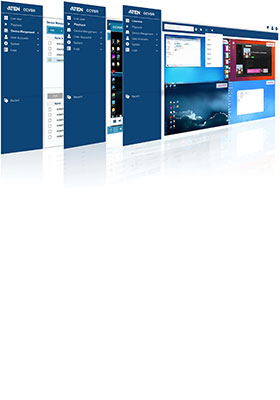 Control Center Video Session Recorders
Video-session recording software records user sessions from BIOS-level boot up for visual playback when users access ATEN KVM over IP switches and serial console servers locally or remotely
Read more below...


$769.00
MSRP: $1,028.00 -
You save $259.00
Video-session recording software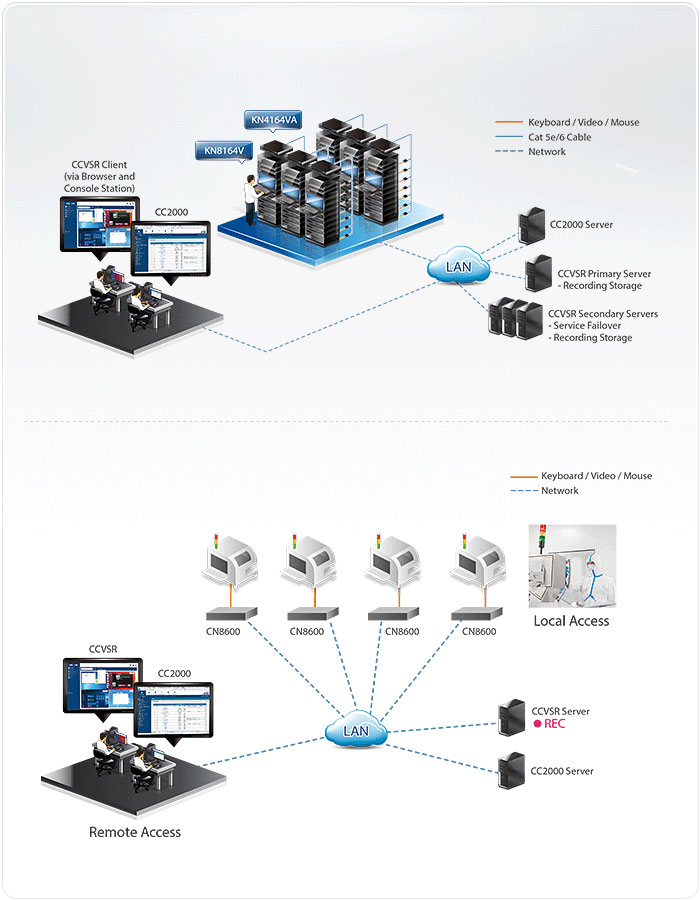 • Records user sessions from BIOS-level boot up for visual playback when users access ATEN KVM over IP switches and serial console servers locally* or remotely
• Incident Investigation - easily search through captured sessions for trouble tracing and problem solving
• LiveView function to provide live-video surveillance for direct monitoring of operations and changes made on servers or the connected devices**
• Service Failover – provides failover through primary-and-secondary architecture for service availability
ATEN's Control Center Video Session Recording (CCVSR) software is an innovative and effective solution designed for live monitoring and operation backtracking. Administrators can view live feed of operators currently operating on their systems and thus quickly resolve operational flaws, process discrepancies, etc. On the other hand, IT managers can go back to recorded operation videos to trace changes made for compliance control improvement and auditing efficiency.
Featuring LiveView function, CCVSR provides live-video surveillance to allow administrators to monitor multiple KVM ports in real time. Various layout combinations and customizable layouts are available for selection by users to monitor multiple channels simultaneously. The LiveView function is especially suitable for industrial environments, such as production lines, which require real-time monitoring of continuous operations and system performance to facilitate timely responses to abnormalities or emergencies for administrators. Moreover, the LiveView page also implements the Playback function to allow users to quickly view older videos of the same channel for troubleshooting or problem solving.
CCVSR automatically starts recording user sessions when users start accessing target servers locally and remotely through KVM over IP switch and/or serial console servers. Whatever the target server's operating status is, whether it'd be booting up the operating system, logging in, logging out, or in pre-boot BIOS mode, all activities and operations such as video display, key strokes and mouse clicks are recorded. CCVSR can also record continuously without keeping the WinClient and JavaClient running.
No agent software installation required on target computers, CCVSR is installed and operated independently as a server. It therefore does not require CPU resources, disk space, memory and network bandwidth of all target computers. Moreover, no agent software installation means that CCVSR provides a non-intrusive method for user session recording. In IT-related environments such as server rooms, data centers and industrial settings like manufacturing plants, security is one of the first considerations on any administrator's mind. As a non-intrusive solution to provide reliable live-video surveillance and video session recording, implementing CCVSR minimizes both security concerns and accidents.
CCVSR is enhanced with a brand new HTML5 user interface, aiming to deliver a better user experience and advanced usability via its clear and concise interface, simplified structure, improved text readability, increased icon visibility, as well as ancillary functions such as system notifications. The UI's minimalist flat design aesthetic and two levels of typographic hierarchy, with the features grouped into self-explanatory handy sidebar, enable users to smoothly navigate and complete tasks intuitively.
CCVSR system is scalable, supporting a single server and up to 3 secondary servers (to expand recording storage) setups. The system uses Primary-Secondary architecture to offer service redundancy. During standard operation, a Secondary server (max. 3 servers) acts as a storage server to store recorded videos. Moreover, if the Primary server fails, one of the Secondary servers can provide the required management and recording services for KVM over-IP Switches until the Primary server is back online. This feature ensures that the recording service is always on and uninterruptible. CCVSR manages video recordings and allows all administrative activity to be controlled from a central CCVSR server (Primary server) through a single IP port, giving administrators access to all CCVSR data from one computer.
By integrating CCVSR into your KVM installation, you can automate the security of your server room and make auditing an effective tool.