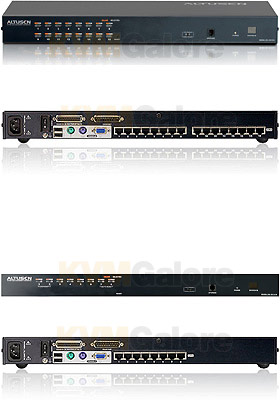 8- 16 and 32-port CAT-5 multi-platform KVM switches
with the console port supporting any combination of USB and PS/2 keyboards and mice
---
The KH-Series CAT-5 KVM switches allow access to eight or sixteen directly connected computers, and through a daisy chain connection, an additional 31 KVMs to control a total of 1024 computers from a single console (mouse, keyboard, and monitor).
The KH-Series CAT-5 KVM switches optionally use CPU modules with a permanent CAT-5 cable molded into a single unit (instead of CAT-5 "Dongles").
For a clean and simple high density cable management solution, the KH-Series uses an RJ45 connection on the KVM side and CAT-5 cable to connect to an adapter that, in turn, connects to the servers. Adapters are available for connecting to PS/2, USB (PC and Mac), Sun USB, legacy Sun, and serial devices.
The KVM / adapter arrangement intercepts and interprets mouse and keyboard signals, there by eliminating the need to install any software on your servers. This also allows the KH-Series to work with practically any operating system in any type of mixed server environment.
Auto Signal Compensation (ASC) provides video resolutions of 1920x1200 @ 60Hz for up to 98 feet; 1280x1024 @ 60Hz up to 130 feet, and for resolution of 1600x1200 @ 60Hz up to 100 feet.