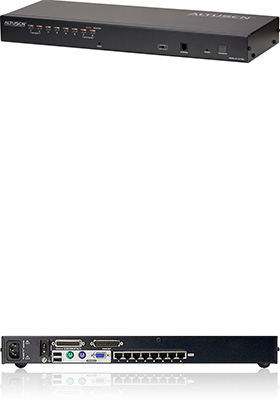 Buy this item and earn 389

Club

Points.
8-port CAT-5 KVM switch
KH1508A** is a KVM switch that allows access to eight directly connected computers, and through a daisy chain connection, an additional 31 KVMs to control a total of 256 computers from a single console (mouse, keyboard, and monitor).
For a clean and simple high density cable management solution, the KH1508A uses an RJ45 connection on the KVM side and CAT-5 cable to connect to an adapter that, in turn, connects to the servers. Adapters are available for connecting to PS/2, USB (PC and Mac), Sun USB, legacy Sun, and serial devices.
The KVM / adapter arrangement intercepts and interprets mouse and keyboard signals, there by eliminating the need to install any software on your servers. This also allows the KH1508 to work with practically any operating system in any type of mixed server environment.
Auto Signal Compensation (ASC) provides video resolutions of 1280 x1024 @ 60Hz up to 130 feet (40 meters), and for resolution of 1600 x 1200 @ 60Hz up to 100 feet (30 meters).
Port selection is accomplished:
• By manually depressing a switch
• With hot keys
• With an On Screen Display (OSD) in which each server can be uniquely identified.
A built in Auto sensing feature eliminates the need to set identifier DIP switches on any of the daisy-chained KVMs, and a LED automatically indicates the selected station.
Features and Benefits
• A single console controls up to 8 directly connected servers
• Daisy chain up to 31 additional units - control up to 256 computers from a single console
• No software required - convenient computer selection via Hotkeys and intuitive OSD menus
• Auto Scan feature for monitoring user-selectable servers
• Hot Pluggable - add or remove computers without having to power down the switch
• Custom ASIC (patent pending) for increased reliability and enhanced performance
• Auto-sensing of station's position on daisy chained installations - no need for manual DIP Switch setting - front panel LED indicates station's position
• Port names automatically reconfigured when station sequence is changed
• Two level password security in the OSD allows an Administrator to assign server access on a port-by-port basis for a maximum of four users
• Two level logout - manual and timed
• Keyboard and mouse emulation - computers boot even when the console focus is elsewhere
• Supports USB and PS/2 compatible* mice
• Supports resolutions of up to 1600 x 1200
• Upgradeable firmware
• Rack mountable in 19" system rack (1U)
Package Content
1x KH1508A KVM Switch
1x firmware upgrade cable
1x 3 prong AC power cord
1x rack mounting kit
1x user manual
* PS/2 compatible mouse is defined as a 3 button wheel mouse. Programmed or special key functions are not supported.
** Note: KH1508A differs from the KH1508 in that the A release uses CPU modules with a permanent CAT-5 cable molded into a single unit, and the console port now supports any combination of PS/2 and USB keyboards and mice.