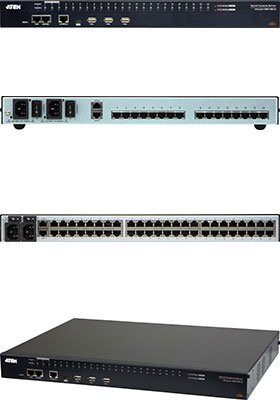 8- 16- 32- and 48-port IP serial console servers / switches
with dual power/LAN, laptop console port, auto DTE/DCE and online/offline detection for remote login to manage serial devices
---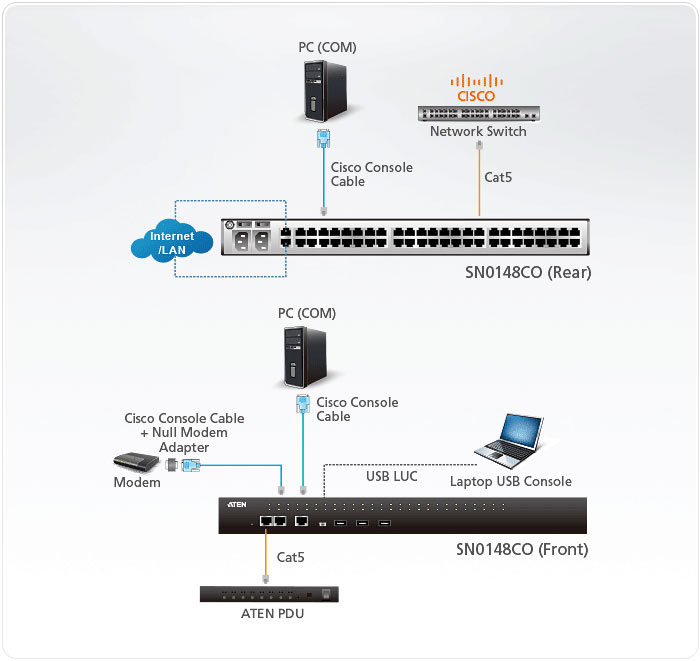 ATEN's 8- 16- 32- and 48-port IP serial console servers offer both in-band and out-of-band (OOB) remote serial console access to servers and network devices via a direct Telnet/SSH client and Java viewer. The OOB management enables IT administrators to manage network devices (e.g. router, switch, UPS) in server rooms using management networks that are separated from the main/production networks. Where access difficulty occurs in the production network, the administrators can still access them via the console server.
The serial console servers offer out-of-band access methods such as direct console connection from a local computer, USB console connection from a laptop, PSTN connection via modem, or hybrid network connection via the dual LAN ports (one connected to the production network and the other connected to the management network).
ATEN serial console servers / switches are used to connect serial devices to an Ethernet network to allow access and control of demanding applications that manage industrial control, data acquisition, environment monitoring, remote facility operations and equipment management. Multiple operational modes are available to administrators including Console Management, Console Management Direct, Real COM Port, TCP Server/Client, UDP Server/Client, and Virtual Modem. Furthermore, ATEN serial console servers / switches work in tandem with ATEN's PDU* remote power management systems. Both can be utilized through ATEN's CC2000 software to provide centralized serial device access and integrated power management.
With their comprehensive features, ATEN serial console servers / switches help to maximize IT productivity, increase scalability, as well as reduce installation and operational costs with easy and secure remote management of serial devices. The serial console server saves you time and money by allowing administrators to manage their data centers from practically anywhere – minimizing travel and MTTR (Mean Time to Repair) costs, ensuring the highest availability for data center services.
SN0108CO: 8 ports
SN0116CO: 16 ports
SN0132CO: 32 ports
SN0148CO: 48 ports