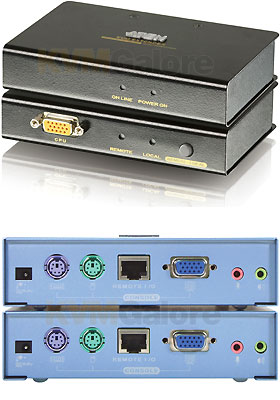 PS/2 KVM console extenders with optional audio, mic and serial support
allowing you to locate your keyboard, monitor and mouse at a distance of up to 1000 feet away from the source computer or KVM switch
---
The extension is accomplished with CAT-5 or higher cabling, supported by ATEN's patented video enhancement technology.
PS/2 KVM Console Extenders are useful in a variety of applications, and are helpful to maintain secured computers. Systems can be maintained in secure area while extended console can be conveniently accessed outside that area.
Due to the increasing importance of the sound in computing environment, the CE300 adds audio supports on. Now the signal of keyboard, mouse, monitor, speaker, and microphone can be transferred away to a remote console station.
Additionally, the CE350 and CE370 console extenders allow users to connect to a serial terminal, or serial devices such as touch screens and barcode scanners.
CE250A: 500 feet
CE252: 1000 feet; audio and mic; built-in remote switch to local PC
CE350: 500 feet; audio; serial (RS-232)
CE370: 1000 feet; audio; serial (RS-232)