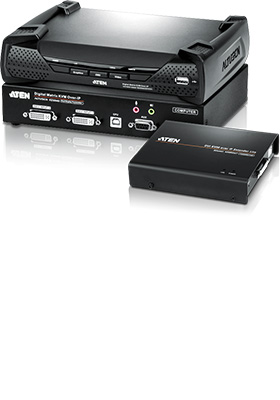 DVI KVM over IP extenders, splitters, switches and matrixes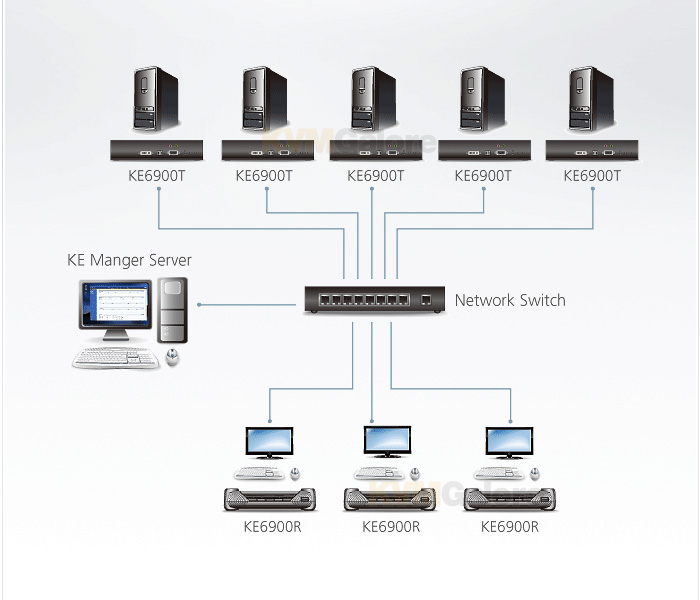 Utilizing expertise in Over IP KVM solutions, KE6900 series is an IP based DVI KVM Extender that allows access to a computer system from a remote USB console (USB keyboard, USB mouse, DVI monitor) anywhere over an intranet.
The DVI KVM Over IP Extender consists of a Transmitter unit that connects to the computer and a Receiver unit that provides console access from a separate location. The computer is accessed from the remote console over a standard TCP/IP network via Cat 5e cable that allows point-to-point, point-to-multipoint, and multipoint-to-multipoint administration. This is perfect for use in any type of installation where you need to place the console where it is convenient, but you want the computer to reside in a secure location - away from the keyboard, mouse and display in use.
As a Matrix Extender it can connect single/multiple (computers-to-consoles) in several ways:
• One-to-one (Extender mode)
• One-to-many (Splitter mode)
• Many-to-one (Switch mode), or
• Many-to-many (Matrix mode).
KE Matrix Manager® software provides advanced features for username/password authentication, autodetection of all KE6900 devices on the same subnet and define connections that can be switched and shared. New security features also provide extra protection, supporting AES-128bits encryption for secured data transmission, while RADIUS, LDAP, AD or remote user authentication provides added layer of connection security.
With an OSD, RS-232 support, and Auto MDIX, KE6900 is the most cost-effective and convenient way to get a full digital extension from anywhere on the intranet.
KE6900AiT: DVI-I Transmitter; CATx/fiber/Internet; 1920x1200; dual-power
KE6900AR: DVI-I Receiver; CATx/fiber; 1920x1200; dual-power
KE6900AT: DVI-I Transmitter; CATx/fiber; 1920x1200; dual-power
KE6900R: DVI-I Receiver; CATx; 1920x1200
KE6900ST: DVI-D Transmitter; CATx; 1920x1200; no local console; no audio support
KE6900T: DVI-I Transmitter; CATx; 1920x1200
KE6910R: DVI-D Receiver; CATx; 2560x1600; dual-power; air-traffic control features
KE6910T: DVI-D Transmitter; CATx; 2560x1600; dual-power; air-traffic control features
KE6912R: DVI-D Receiver; CATx; 2560x1600; PoE; air-traffic control features
KE6912T: DVI-D Transmitter; CATx; 2560x1600; PoE; air-traffic control features
KE6920R: DVI-D Receiver; CATx/fiber; 2560x1600; dual-power; dual-SFP; air-traffic control features
KE6920T: DVI-D Transmitter; CATx/fiber; 2560x1600; dual-power; dual-SFP; air-traffic control features
KE6922R: DVI-D Receiver; CATx/fiber; 2560x1600; PoE; dual-power; dual-SFP; air-traffic control features
KE6922T: DVI-D Transmitter; CATx/fiber; 2560x1600; PoE; dual-power; dual-SFP; air-traffic control features