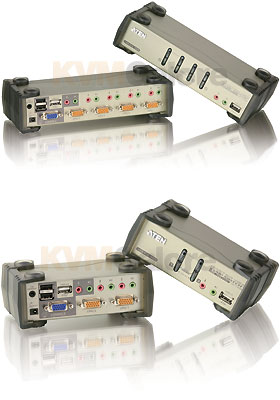 2- and 4-port USB KVMP switches
with USB peripheral sharing, and audio support
---
Master View USB-PS/2 KVMA switches are KVM switches combined with a two-port USB hub.
As KVM switches, they allow users to switch control between two or four computers using a single keyboard, monitor and mouse. These versatile KVMs - with the proper cables - will connect to PS/2 or USB computers.
"B" models allow the use of PS/2 or USB keyboards and mice via the included conversion cable.
Installation is as easy as connecting the included cables to your computers and your mouse, monitor and keyboard to the KVM: there is no software to install.
Switching computers is accomplished by pressing a button on the unit, Hotkeys entered directly form your keyboard, or – on "B" models - by On Screen Display (OSD). The OSD also provides a means to change the default setting of the KVM in case of program conflict, or simply for ease of use. Hotkeys and the OSD also provide for the independent switching of the KVM focus, audio, and peripheral ports. An auto scan function provides hands free monitoring capabilities at selectable intervals.
Recognizing the importance of sound, Master View USB-PS/2 KVMA switches support sharing a 2.1 computer speaker systems and a microphone between your computers (listen to music from one computer while working on the other).
Since Master View USB-PS/2 KVMA switches intercept key strokes directly from the keyboard they works with virtually all USB and PS/2 operating systems (Mac and Sun must be connected via USB). The units also provide PC keyboard emulation for the special function Mac and Sun keys.
To ensure longevity and trouble free operation the units are firmware up-gradable and come with an unprecedented 7 year limited warranty.
CS1732B: 2 ports
CS1734B: 4 ports