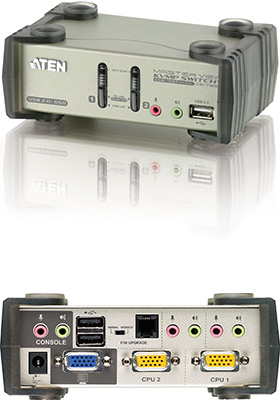 Buy this item and earn 112

Club

Points.
2-port USB KVMP switch with OSD, USB 2.0, audio support
CS1732B is a two port KVMP switch combined with a two-port USB 2.0 hub.
As a KVM switch, It allows users to switch control between two computers using a single keyboard, monitor, and mouse. This versatile KVM will allow the use of PS/2 or USB keyboards and mice via the included conversion cable, and with the proper cable, will connect to PS/2* or USB computers.
Installation is as easy as connecting the included cables to your computers and your mouse, monitor, and keyboard to the KVM, there is no software to install.
Switching computers is accomplished by pressing a button on the unit, Hotkeys entered directly form your keyboard, or by On Screen Display (OSD). The OSD also provides a means to change the default setting of the KVM in case of program conflict, or simply for ease of use. Hotkeys and the OSD also provide for the independent switching of the KVM focus, audio, and peripheral ports. An auto scan function provides hands free monitoring capabilities at selectable intervals.
Recognizing the importance of sound, CS1732B supports sharing a 2.1 computer speaker systems and a microphone between your computers (listen to music from one computer while working on the other).
Since CS1732B intercepts key strokes directly from the keyboard it works with virtually all USB and PS/2 operating systems (Mac and Sun must be connected via USB). The unit also provides PC keyboard emulation for the special function Mac and Sun keys.
To ensure longevity and trouble free operation the unit is firmware up-gradable and it comes with an unprecedented 7 year limited warranty.
Features and Benefits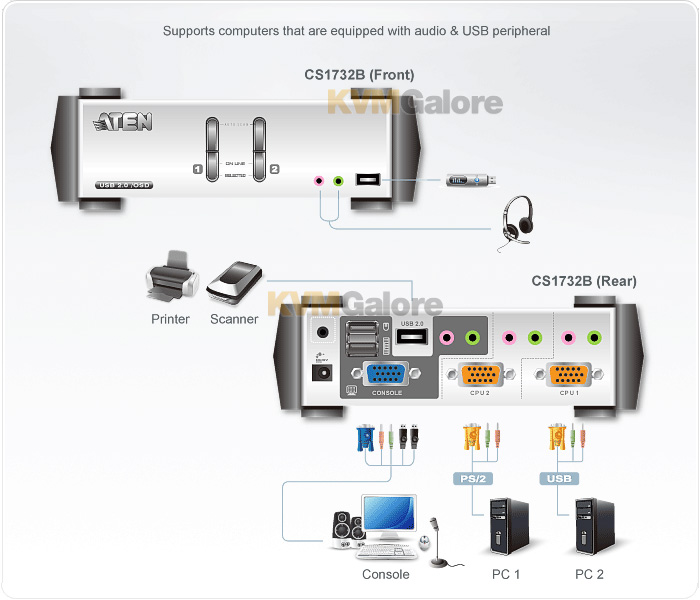 • 2-port KVMP switch with USB 2.0 support and 2.1 surround sound audio
• One console controls 2 computers and two additional USB devices
• 2-port USB 2.0 compliant hub built in - Dual interface supports computers with PS/2 or USB keyboard and mouse configurations
• Audio-enabled full bass response provides a rich experience for 2.1 surround sounds systems
• Console audio ports on front panel – ideal for IP phone use
• Supports both USB and PS/2 keyboards and mice for flexible configurations available with the included USB to PS/2
• Independent switching of KVM, USB, and Audio.
• Maximum video resolution ; 2048x1536; DDC2B.
• Supports widescreen monitors
• Computer selection via front panel pushbuttons, OSD (On Screen Display), or Hotkeys
• Multiplatform support; Windows 2000/XP/Vista, Linux, Mac, and Sun
• Console mouse port emulation bypass feature supports programmable mice
• Display Emulation Technology – reads and remembers the monitor's display parameters to maintain optimum display settings when switching between computers
• Complete keyboard emulation for error free booting - Sun/Mac keyboard support and emulation**
• Auto Scan Mode for sequentially monitoring attached computers
• LED display for easy status monitoring
• Easy installation,no software required
Package Content
1x CS1732B KVMP Switch
2x custom USB KVM Cables
1x USB-to-PS/2 keyboard and mouse converter
1x firmware upgrade cable
1x power adapter
1x user manual
* PS/2 cables sold separately - USB sharing not available with PS/2 cables.
** PC keyboard combinations emulate Sun/Mac keyboards.