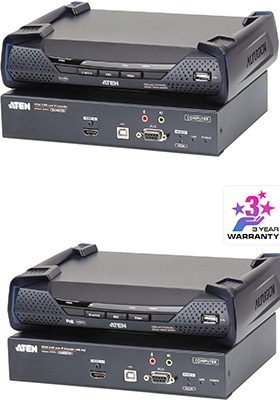 4K HDMI single display KVM over IP
with optional PoE
---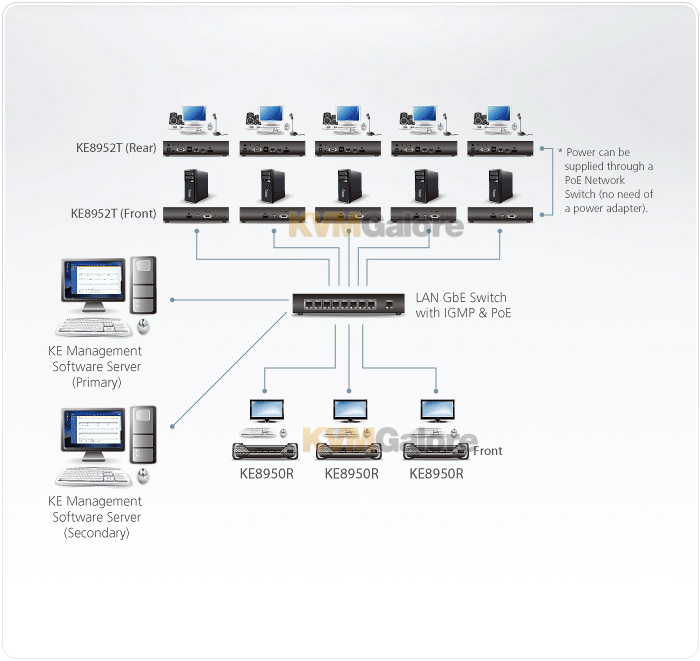 ATEN KE895x 4K HDMI KVM over IP extenders/matrix bring together a unique blend of features and new technologies that offer the ultimate solution for extending computers to consoles on or off your IT infrastructure.
Utilizing expertise in over IP KVM solutions, KE895x are IP-based HDMI KVM extenders that allow access to a computer system from a remote USB console to anywhere over an intranet. KE895x KVM over IP extenders support one HDMI monitor at each end, providing a greatly improved video display image with 4K x 2K video resolution (up to 3840x2160).
KE895x extender consist of a Tx (Transmitter) that connects to a computer and a Rx (Receiver) unit that provides console access from a separate location. The computer is accessed from the remote console via a standard TCP/IP Gigabit network or direct CAT-5e/6 cable connection. This is perfect for any installation where you need to place the console where it is convenient, but you want the computer to reside ina asecure location - away from the keyboard/mouse and display.
KE895x also support 1Gbps SFP fiber module expansions (sold separately), enabling connections via fiber optic network to extend distances in transmission. Furthermore, KE8952 features Power over Ethernet (PoE) function, the power can be supplied through a PoE Network switch, therefore eliminating the need for a power adapter and effectively reducing the power configuration cost.
KE895x extenders have a local on-screen display (OSD) system on the Receiver end to configure both units for easy setup and operation. Both Transmitter and Receiver units have RS-232 ports to to a serial terminal for configuration or serial devices such as touch-screen and barcode scanners.
As a KVM over IP matrix system, KE895x can make console-to-computer connections in several ways:
• One-to-one (Extender mode)
• One-to-many (Splitter mode)
• Many-to-one (Switch mode), and
• Many-to-many (Matrix mode)
Implementing the KE Matrix Management Software (CCKM) with KE895x, IT administrators receive advanced features functioning as auto detection of all KE series extenders on the same subnet for the sake of fast installation or configuration, username/password authentication and authorization, and the ability to define different types of connections that can be switched and shared.
Security features also provide extra protection, supporting AES encryption for secured data transmissions, while RADIUS, LDAP, AD or remote user authentication provides an added layer of connection security. Moreover, with an OSD, RS-232 support, and Auto MDIX, KE series is the most cost-effective and convenient way to get a full digital extension from anywhere on the intranet.
More flexible and efficient operations can be achieved in the KVM over IP matrix system, which integrates KE series extenders with the CCKM management software, such as multi-display setups, video grouping, video profile scheduling and enhancements that give greater access to quick and easy control tools to configure KE devices over a network. Whether you're configuring, monitoring, administrating, controlling or extending computer access, the KVM over IP matrix system is made adaptable to fit an endless variety of working environments and workstation settings, as well as to provide solutions in broadcasting, control center, multimedia, manufacturing and many other industries where matrix extending is required.
Over IP
Extend a computer's KVM console any distance over a LAN by connecting the Tx (Transmitter) and Rx (Receiver) units to your network. Extend a computer's KVM console up to 330 feet (100 m) by
directly connecting the Tx (Transmitter) and Rx (Receiver) units with a single CAT-5e/6 cable.
SFP Module
KE8950 / KE895x supports 1Gbps SFP fiber module expansions, enabling connections with network switch which allow inserting either an optical Fiber Channel SFP module or Active Copper SFP module. The single-mode SFP module provides 1GbE connectivity up to 10 kilometers while the multi-mode SFP module provides 1GbE connectivity up to 1800 feet (550 m).
Unprecedented Video Quality
ATEN's advanced graphics processor delivers video that ensures you to experience the same vivid and sharp image quality on the remote monitor no matter how far away the console is located. Remarkably, KE8950 / KE895x offers Ultra High Definition (UHD) video quality – up to 3840x2160 @ 30 Hz (4:4:4); 24-bit color depth.
Flexibility
KE8950 / KE895x allows you to access, share, and switch full control of Tx (Transmitter) connected computers - from any Rx (Receiver - KVM console) on the network. Flexibly allows one-to-one, one-to-many, many-to-one, or many-to-many computer to KVM console connections.
Advanced Management System
The KE Matrix Management Software allows you to easily administer all KE8950 / KE895x devices over a network, using an intuitive user-friendly web based GUI.
Download KE Matrix Manager® Lite (supporting up to 8 end-points) for FREE!
Fast Switching
Fast switching feature allows switching between the Tx (Transmitter) devices within 0.3 second. Users can operate keyboard / mouse immediately without waiting for the process of USB enumeration. This is ideal for control center application, which has strong demand for the seamless operation.
KE8950R: Receiver unit
KE8950T: Transmitter unit
KE8952R: Receiver unit with PoE support
KE8952T: Transmitter unit with PoE support