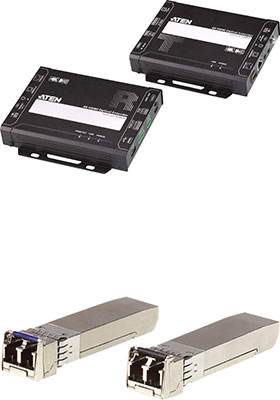 4K HDMI, USB, IR, RS-232 and Ethernet optical extenders
up to 6.2 miles over singlemode or 984 feet over multimode duplex fiber optic cables
---
• Extends HDMI video, stereo audio, IR, RS-232 control and Ethernet signals over duplex fiber optic cabling
• Supports ultra long distance transmission up to 6.2 miles*
• Supports lossless 4K video up to 4096x2160 / 3840x2160 @ 60Hz (4:2:0)
• Supports USB 2.0, with a maximal transfer rate of 25Mbps
These fiber-based extenders are designed to extend uncompressed 4K signal up to 6.2 miles over duplex fiber optic cables.
They meet HDMI specifications, including 3D, Deep Color (up to 12 bit), and signaling rates (up to 10.2 Gb) to ensure superior video quality.
With ATEN's exclusive FarSmooth technology, These fiber-based extenders prevent lagging and freezing by matching the output rates to the input rates and ensures the video display is stable, smooth and identical to the source, particularly in long-distance extension applications where uninterrupted video streams are required.
The extenders feature an HDMI input and output, analog audio input and output, USB 2.0, IR, RS-232 control port and a Gigabit Ethernet port.
To avoid bulky cable setup, these fiber-based extenders guarantee a simple and fast solution for optimum transmission of Ethernet, IR, HDMI, RS-232, and USB signals up to 6.2 miles simply via a set of duplex optic fiber. They are also USB transparent, making them compatible with a wide range of USB peripherals.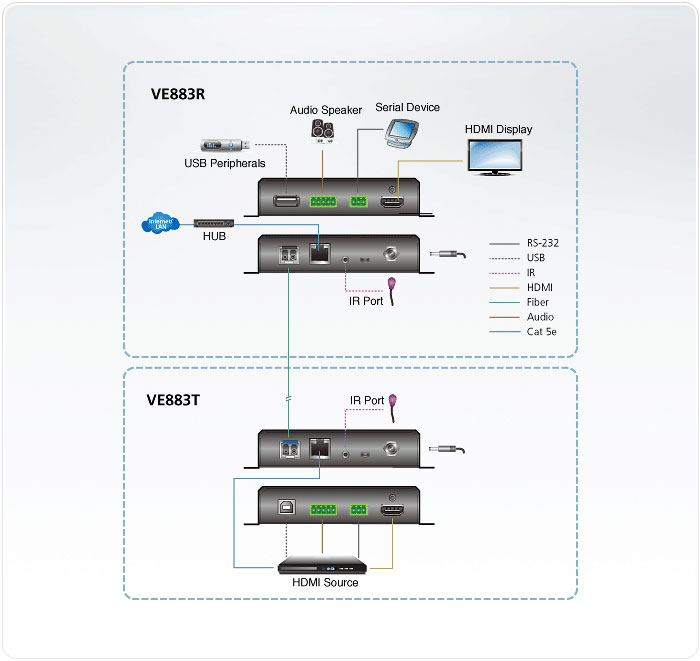 Engineered to meet the latest trend of lossless 4K and long distance signal extension, these fiber-based extenders are suitable for where long distance transmission is a must and little interference is allowed, such as in traffic station and modern office buildings.
VE883RK1: Receiver; 984 feet; multimode
VE883RK2: Receiver; 6.2 miles; singlemode
VE883TK1: Transmitter; 984 feet; multimode
VE883TK2: Transmitter; 6.2 miles; singlemode