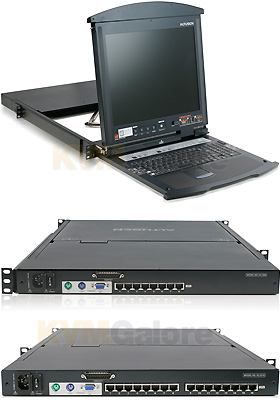 8- and 16-port, multi-platform CAT-5 KVM switches with built-in dual-rail 17- and 19-inch LCD consoles
in a 1U space-saving 1U hideaway housing, featuring video resolution up to 1280x1024 and two level password security
---
Aten's CAT-5 KVM switches with slide away LCD consoles provide a compact solution to working in cramped server rooms. They have a unique dual rail configuration so the LCD monitors slide independently of the keyboard, which allows the keyboard to be conveniently stowed out of the way, while the LCD monitors stands vertically flat against the rack for monitoring purposes, thus keeping your aisle clear.
The use of common CAT-5 cables to connect the 1U KVM switches to your servers serves a two-fold purpose. First, cable length is no longer an issue; simply make it as long as you like (up to 130 feet). Secondly, although the computer ports panel is a high density configuration, it's still easy to add new devices, or reconfigure your existing set up.
These units come with either a 17- or 19-inch monitor, and a standard 105 keyboard with touch pad. The KVM switches include a standard PS/2 mouse port (for user's who don't like touch pads), and an additional console port for connecting an extender to remotely control your servers.
The CAT-5 KVM switches with LCD consoles supports video resolutions up to 1280 x 1024 @60Hz at 130 feet from the servers. These units fit into a 1U 19-inch system rack, with the included standard rack mount kit [an optional easy rack mount (single person installation) kit is available for separate purchase].
KL1508AM - 8 ports; 17" LCD
KL1508AMUKIT - 8 ports; 17" LCD; bundled with 8x KA7970 (15-foot USB KVM adapter cables)
KL1508AN - 8 ports; 19" LCD
KL1508ANUKit - 8 ports; 19" LCD; bundled with 8x KA7970 (15-foot USB KVM adapter cables)
KL1516AM - 16 ports; 17" LCD
KL1516AMUKit - 16 ports; 17" LCD; bundled with 12x KA7970 (15-foot USB KVM adapter cables)
KL1516AN - 16 ports; 19" LCD
KL1516ANUKit - 16 ports; 19" LCD; bundled with 12x KA7970 (15-foot USB KVM adapter cables)