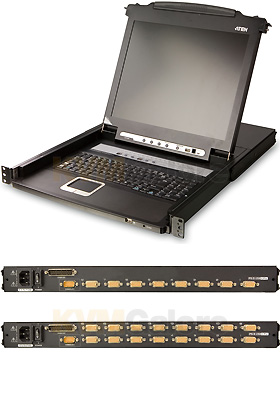 19- and 17-inch LCD KVM consoles in a 1U rack-mount hideaway housing with built-in 8- or 16-port USB/PS2 KVM switches
with optional illuminated keyboard and USB peripheral sharing, controlling up to 512 computers
---
With limited server room space and rising maintenance costs, network administrators are now more than ever looking for solutions that reduce both costs and space requirements. ATEN LCD KVM switches offer a space saving, streamlined approach to KVM switching technology by integrating an LCD panel, full keyboard, and touchpad into a 1U rack-mountable sliding housing.
ATEN LCD KVM consoles w/ built-in KVM switches feature an integrated 19" or 17" LED-backlit LCD panel allowing access and control with up to 8 or 16 computers from a single console (keyboard, mouse, and monitor). As many as 8 or 16 additional switches can be cascaded bringing the total number of connected computers to 512 computers that can be controlled from a single keyboard-monitor-mouse console.
Setup is fast and easy - plugging cables into their appropriate ports is all that is needed. The built-in switches support both USB and PS/2 connections for the computers. ATEN LCD KVM consoles w/ built-in KVM switches intercept keyboard input directly, thus eliminating the need for any software configuration.
Switching between computers can be easily accomplished either by manually pressing the front panel push button port LEDs, entering hotkey combinations from the keyboard, or via a menu driven multilingual on-screen display (OSD) system.
A convenient auto-scan feature permits automatic scanning and monitoring of activities on all connected computers.
Models featuring USB peripheral sharing incorporate a single USB hub for sharing USB devices on a one at a time basis among first tier servers. This allows updates and software installations to be performed from the common console, without needing to connect an external drive to each server or interfere with your network traffic.
Your LCD KVM console w/ built-in KVM switch investment is protected by a three year warranty and a built-in firmware upgrade utility so you can stay current with the latest functionality improvements by downloading firmware update files from ATEN's website.
CL1308N: 19-inch LCD screen; 8 ports; illuminated keyboard
CL1308NUKIT: 19-inch LCD screen; 8 ports; illuminated keyboard; cables included
CL1316N: 19-inch LCD screen; 16 ports; illuminated keyboard
CL5708M: 17-inch LCD screen; 8 ports; USB peripheral sharing
CL5708MUKit: 17-inch LCD screen; 8 ports; USB peripheral sharing; cables included
CL5708N: 19-inch LCD screen; 8 ports; USB peripheral sharing
CL5708NUKit: 19-inch LCD screen; 8 ports; USB peripheral sharing; cables included
CL5716M: 17-inch LCD screen; 16 ports; USB peripheral sharing
CL5716MUKit: 17-inch LCD screen; 16 ports; USB peripheral sharing; cables included
CL5716N: 19-inch LCD screen; 16 ports; USB peripheral sharing
CL5716NUKit: 19-inch LCD screen; 16 ports; USB peripheral sharing; cables included