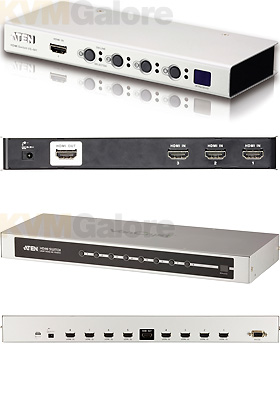 4- and 8-port HDMI audio/video switches
with resolution up to 4K Ultra-HD
---
These HDMI audio/video switches are multi-input, single- or dual-output units designed to conveniently connect up to eight HDMI source units (DVD player, set top box, satellite receiver, etc.) and direct that input to a single or dual HDMI monitor(s).
Device selection can be accomplished by manually pressing a button on the front panel, or from across the room with the included remote unit.
The HDMI switches support all the common HDTV resolutions including 480p, 720p, 1080i, 1080p and video standards VGA, SVGA, SXGA (1270x1024), UXGA (1600x1200), and WUXGA (1920x1200).
VS0801H: 8-ports; 1080p
VS0801HB: 8-ports; 4K
VS481A: 4-ports; 1080p
VS481B: 4-Ports; 4K
VS481C: 4-Ports; 4K 4096x2160 / 3840x2160 @ 60Hz (4:4:4); HDR
VS482: 4-ports; dual-output; audio de-embedding; 1080p