Adder store on KVMGalore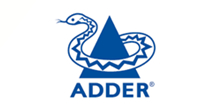 Adder offers the following product lines:
---
Looking for a better price? Write to us or call us at 1-800-636-3434 and ask for our special offer.
---
Adder Technology designs and manufactures an advanced range of KVM switches, KVM extenders and KVM-over-IP solutions for reliable control of local, remote and global IT systems; AV extenders and video-over-IP for digital signage and media streaming. Adder has an impressive track record for bringing successful and profitable products to market. Adder products are renowned for their technical excellence, reliable performance and robust manufacture.
Adder's KVM (Keyboard, Video monitor, Mouse) switches allow users to access and control multiple computers from one (or more) keyboard monitor and mouse. This results in reduced complexity and improved efficiency of IT systems.
Adder's KVM extenders allow the keyboard, monitor (or touch screen) and mouse to be located remotely from the computer, enabling the remote control of systems due to factors such as security, noise, dirt and heat. Adder's AV extenders distribute video and audio signals, ideal for Digital Signage and Media Streaming applications such as in-store TV and public information systems.
Adder's KVM-via-IP solutions enable the secure global access and control of IT systems. Our high performance KVM switch technology combined with advanced, integrated VNC support enables the reliable control of mission critical systems.
Adder has a huge user base ranging across markets such as Retail, Financial, Industrial, Medical, Broadcast, Air Traffic Control, Digital Signage, Military and Server Management.
Adder manufactures products under their own brand as well as for a number of well known OEM customers where they are known for their technical expertise and flexible approach. Adder's products are marketed and supported by a global network of resellers and distributors.
Standard warranty: Two years. Extended warranty is available and can be purchased separately.